Made Whole in Christ Jesus
With all that is going on in the world today, it can bring us peace to reflect on God's amazing plan to redeem the world – including the Muslim world and former Muslims like Mona.
Mona's experiences were enough to completely derail her life; but because of Christ's unrelenting love, she and her family have a new story.
Mona grew up in Syria with five sisters and three brothers where she had her precious childhood cut short. At only ten years of age, she was given away to be married, despite the protests of one her brothers. She experienced multiple nonconsensual sexual experiences and abusive encounters at the hands of her husband. And, at the age of eleven, Mona nearly died during childbirth.
Mona lived with this torment and abuse for many years. Her horror stories and pleas for help fell on deaf ears with family and friends. The idea of divorce frightening them more than her sufferings, and so she bravely endured until the age of 27 when she and her husband finally agreed to a divorce.

Within a few weeks of their divorce, the war in Syria took the life of her ex-husband and Mona fled to Lebanon along with millions of other refugees.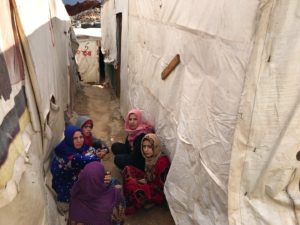 We first met Mona when she came to our centre in Lebanon. She recalls, "I wanted to be a Christian," and goes on, "I loved what I heard about your church, and when I came to your church, I loved the teachings." When Mona heard the stories from the Bible, especially the suffering of our Lord Jesus, she remembers, "Tears filled my eyes Jesus died for me, He loves me!"
She eventually brought her new husband with her to the church where we got to know the couple better. After several visits to our Sunday services, and learning more about the Word of God, the couple made the courageous decision to follow Christ. Then, despite the danger, they chose to be baptised!
Mona is living her life for Christ, and has even led her family to salvation! Every day, she eagerly shares her faith with the Muslim community that she once hated. In spite of the life of trauma she endured growing up, Mona is now a conqueror in Christ.